Enjoy a New Patient Experience
Our patients feel like part of our family when they come here.
Gitter Vein Institute is a patient-focused, vein treatment center based in New Orleans, LA. Gitter Vein utilizes the most proven and innovative laser techniques and other modalities to treat and cure abnormalities associated with the peripheral venous system. Gitter Vein primarily treats varicose veins, spider veins, vascular malformations, venous ulcers, and vascular lesions of the face and body. We have also recently expanded our services to include skin rejuvenation and the treatment of fine lines and wrinkles, scarring, mature wrinkles and anti-aging phototherapy.

Gitter Vein Institute invites you to experience a new type of medical environment. We commit our focus and expertise to earn your confidence and trust.
Dedicated and Compassionate Care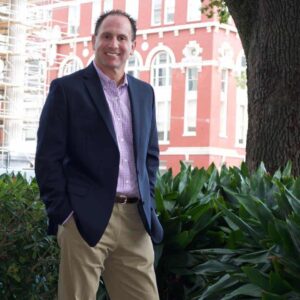 Richard Gitter, MD
DIRECTOR
The director of Gitter Vein Institue, Richard Gitter, MD is an experienced, board certified, Cardiothoracic and Vascular Surgeon who has dedicated his professional career to the surgical treatment of blood vessels.
Dr. Richard Gitter is a native of New Orleans and grew up in Old Metairie. He graduated from Isidore Newman in 1981 and then earned his Bachelor of Science degree in Biology from Tulane University in 1985.
I definitely recommend Gitter Vein Institute!!! Dr. Gitter is very caring about his patients. He made the treatments very comfortable and explained everything to me in detail. My legs have never felt this great before! Thank you for all that you do Dr. Gitter!!!
As you walk in you feel welcomed. I love the atmosphere and the organized handouts. The dogs are a plus. The staff is wonderful. They explain every step of the way. Not only with the procedure, but the follow up as well. What can I say, Hillary is a jewel. All are wonderful at Gitter Vein Institute. Especially, Dr. Gitter I feel like I am in good hands. Having faith and trust in your surgeon is half the battle
Gitter Vein was a great experience and I advise anyone needing these kind of treatments to visit Dr. Gitter. The office was clean and pleasing, the staff was very nice, and knowledgeable to all questions. Dr. Gitter made the whole experience very comfortable and easy going. I couldn't have had a better treatment situation.